RoboAC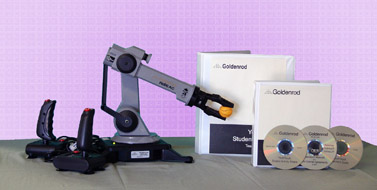 RoboAC is a high-tech teaching tool that doesn't require a computer and fits easily in your classroom. The compact robot has five axes. End-of-arm tools increase utility and include finger grippers, a shovel, and a magnetic pick-up tool. RoboAC reinforces learning in a fun and challenging way.

Use RoboAC to help students master both simple and complex concepts. It enriches a variety of classroom studies that range from math, problem solving, and critical thinking to reading, teamwork, and communication skills.

RoboAC is superior to other joystick-controlled robots. Our proprietary electronics, auto shut-off, and thousand-hour CD motors with slip clutches ensure durability and make RoboAC an exceptional value.
Features:
Affordable, Dependable Robot
Enclosed Electronics and Gears
Auto Shut-off at Maximum Rotation
Five 1,000-hour Motors
Compact and Durable
Toll-free, Immediate Helpline
Plug-in Power - No Batteries Needed
One-year Warranty
Superior Performance, Price and Value
Price:
00201 #6899 RoboAC $795.00
( Note: Notebooks shown in the picture above are NOT included. )
To Order Call 1-888-827-2260 or email orderdesk@goldenrodresearch.com